The serene sea view of Wakaura Bay. The open-air baths where sea breeze touches you.
Our inn which is located on the scenic seaside of Wakaura is popular for the bath using the hot spring water from our private source, which makes us unique in Wakaura.
Our local .guests, too, keep loving the evening view of Wakaura Bay seen from the open-air baths.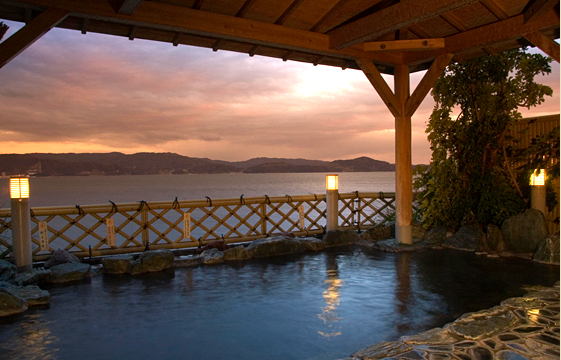 "Manyo-no-Yu", an open-air bath with hot spring water from our own hot spring source.
Enjoy the view of Wakaura Bay that spreads below you.
Have a special time in a chartered bath that has a character.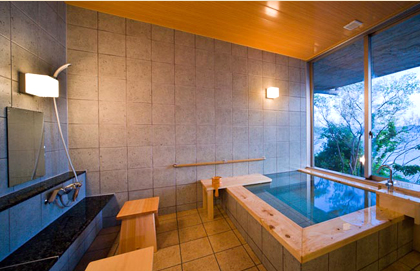 [Daidai-no-Yu]
A barrier-free chartered bath popular among our guests in wheel chairs.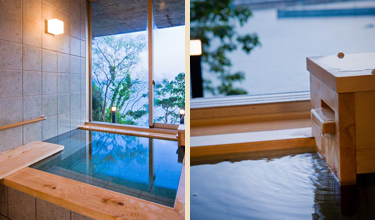 [Ao-no-Yu]
A stylish chartered bath newly installed in 2009.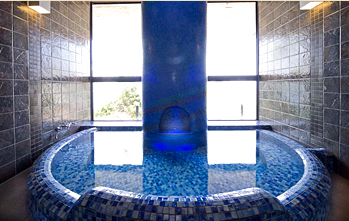 - "Rose bath" is optional for chartered baths. -

Hot spring spa information
Name of the hot spring spa

Wakanoura Onsen "Manyo-no-Yu"

Name of the spring type

Calcium/ Sodium Chloride (Muriated) springs

Old name of the spring type

Muriated earthy springs

Spring category

Subthermal hypertonic weak alkaline springs

Spring temperature

26.2℃(※Water -added & heated Circulation- Filtration System)

Spring color

No color, transparent

Effects(for bathing)

Neuralgia, muscle pain, frozen shoulder, paralysis, joint stiffness, bruise, sprain, chronicle digestive diseases, hemorrhoids, poor circulation, recovery period after delivery, health promotion, cuts, burns, chronicle dermatitis, delicate children, women's diseases.
Bathing time

3pm ~ 11pm, 6am~9am
※General (day ) bathing customers may bathe 11am~3pm.

Open-air baths

Men -1/Women-1

Jacuzzi

Men-1/Women-1

Sauna

Men-1

Toiletries

2 in 1 shampoo & conditioner and body soap are available.
Towels and bath towels are supplied in each room.

Large bath
A 270 degree panorama view. We present you this breathtaking view of Manpa which is embraced by the sea.
Standing at the tip of the cape near Wakayama Port, "Manpa" is an inn that takes pride in the panorama view of the sea.
Enjoy also the view of Wakaura Bay below, the night view of "Wakayama Marina City" on the opposite shore and Isaribi (fishing lights).

The vast sea, refreshing breeze and the beauty of the sea view – those are what our resort hotel is proud of.

Souvenir shops
Tea lounge and private rooms
Outside appearance
Facility overview
Guest rooms

41rooms(Japanese style: 39rooms・Japanese & Western style: 2 rooms)

Capacity

240 people

Banquet halls

Large, medium and small halls. Total of 8 halls.
・ Large banquet hall: Capacity- 200 people, 168 Tatami mats, a stage.
・ Medium banquet hall: Capacity- 70 people, 72 Tatami mats, a stage.
・ Medium banquet hall: Capacity- 60 people, 62 Tatami mats
・ Party rooms for small groups: 5 people

Meetng room

Capacity- 100 people

Baths

Hot spring, Large bath with a panorama view
Open-air bath "Manyo-no-Yu"
Jacuzzi(for men, sauna is also available)

Swimming pool

25m/ Small paddling pool
*There is a direct access to the sea from the pools, enabling you to enjoy bathing in the sea also.

Large parking lot

Capacity for 70cars

Other's

Bar "Nagisa", Game corner, Kiosk, etc.